Also in today's report: OH WOW! hires a general manager.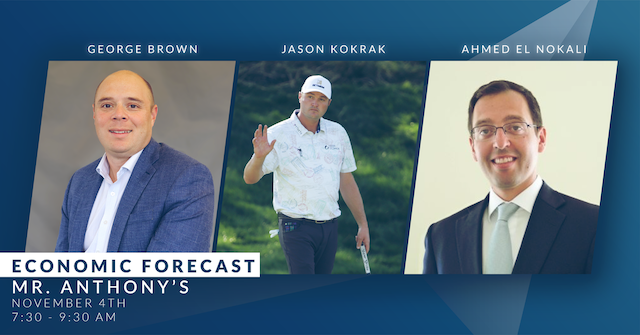 Also in today's report: OH WOW! hires an executive director and ribbon cuts are set at Canfield and Niles.
BOARDMAN – George Brown, originally from Warren, executive director of the Ohio Oil & Gas Energy Education Program, will discuss workforce development in the energy sector during the Youngstown Economic Forecasts Breakfast- Warren Regional Chamber Thursday.
The event will be at M. Anthony's from 7:30 a.m. to 9:30 a.m.
Ahmed El Nokali of First National Bank, Managing Director of Capital Markets, will also speak to forecast the regional and national economy.
Professional golfer Jason Kokrak, a graduate of Warren JFK High School, will receive the chamber's first Valley Champion Award. This award was created to honor those natives of the Youngstown-Warren area who have successfully achieved national and / or international heights.
Kokrak, who plays on the PGA Tour, ranks 11th and has won two tournaments this year – the Charles Schwab Challenge in Fort Worth, Texas, and the CJ Cup Shadow Creek.
Journalist Salena Zito from the Washington Examiner will be moderator and interviewer for Brown. Zito is a Pittsburgh-based columnist and journalist. She is also a columnist for the New York Postt.
The regional chamber and its partner MAGNET will present the fifth annual Excellence in Manufacturing Award for Commercial Metal Forming. Bob Messaros, President of Commercial Metal Forming, will accept the award.
The cost of participation is $ 40 for chamber members and $ 50 for non-members.
OH WOW! hire the general manager
YOUNGSTOWN – Science Center OH WOW! hired Marvin L. Logan, Jr., as executive director.
Logan, a graduate of Warren G. Harding High School and alumnus of Kent State University, returns from Detroit in the Mahoning Valley. He is a candidate for the nonprofit Masters of Administration program at the University of Notre Dame and is expected to graduate in December.
"I am incredibly excited and honored to have the opportunity to lead this incredible organization," Logan said in a press release. "We have built a solid foundation to serve youth, families and educators throughout our community over the past decade and as we look to the future.
"OH WOW will play a major role in cultivating innovation and imagination and a new world of possibilities." Logan said.
Two ribbon cuts set this week
Youngstown-Warren Regional Chamber reports two companies have groundbreaking ceremonies scheduled this week
In Canfield, Queen Nails and Spas II will open at 10 a.m. on Tuesday. The company also has a Boardman location.
Queen Nails specializes in nail services such as acrylic nails, solar nails and manicures as well as pedicures and waxing. It is a family business which is in its third decade of activity.
To make an appointment, call 330-286-3050.
At 11 a.m. in Niles on Friday, Infinite Consortium Gaming will open its second location in the Eastwood Mall.
Infinite Consortium sells different types of board and card games. The store offers items such as Pokemon cards as well as jigsaw puzzles and hobby supplies for miniatures. The store also offers a selection of Legos and role-playing games.
"We wanted to thank our amazing community of players," owner Tom Vaughn said in a press release. "We are excited to show the new store to old friends and new ones we haven't met yet."
To join Infinite Consortium Gaming, call 724-342-0500 or email [email protected] or visit the website www.icgstore.com.
– Do you have an ad about your business or organization that you would like to share? Send an email to [email protected]